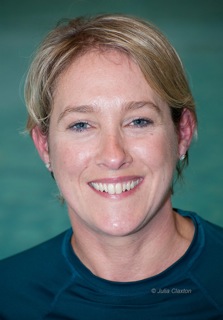 About Judy
Trained in both Europe and in the USA with the founder of Watsu, Harold Dull, Judy is one of only a handful of Watsu providers in the UK and is the only Watsu provider in the South East of England.
As well as aquatic therapy Judy also works on land as a Shiatsu therapist. Judy has always been a keen swimmer and is a qualified ASA swim coach and Little Dippers Swimming instructor who has introduced hundred of a babies to water and the importance it holds.
On Watsu Judy says,
I have not in the past been a treatments person.I am naturally an athletic person having rowed for my university, competed in triathlons and taught baby swimming for years.
Indeed it was my love of the water which led me to Watsu and to the discovery of this little known but quite incredible form of therapy.
When I first experienced Watsu I was totally astonished by the effect it had on my mind as well as my body.
I was astounded how something so simple could have such a powerful effect. This is a therapy like nothing I had ever experienced before and something which can really not be explained just by words.
Relaxed in warm water, the movements and extensions allowed my body to feel expanded and totally free almost like flying every muscle felt released.
The silence, something we almost never experience in our busy lives, combined with gentle movement sent my mind into such a deep state of relaxation that at the end of the therapy I felt so content that I could have stayed forever in this other place.
This felt to me the real meaning of that very bandied around word - holistic a total mind/body experience. If that was the effect Watsu had on me I could imagine how wonderful this could be for those who suffer physical or psychological pain.
And so here I am - do not leave this earth without first having tried Watsu.